If you're a freshman at Penn or many of the other universities that are raking in revenue from freshmen beyond tuition and fees, you may have received e-mails and letters offering all sorts of wonderful things. The one that caught my attention was something called "Campus Backup Service".
It's a cleverly marketed service that tries to leverage the anxiety of freshmen and parents to sell you something you don't need — or rather, something you need, but not from this company.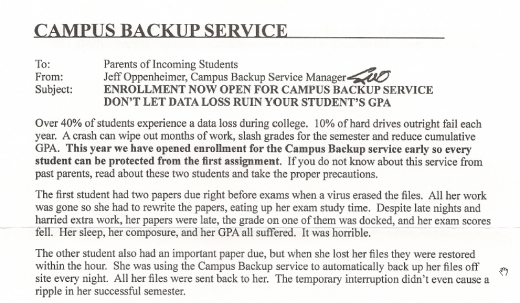 There's a disaster scenario — a student without backup suffers a virus infection on her laptop and… "her sleep, her composure, and her GPA all suffered… it was horrible". There's an alternate scenario — someone uses this company's service, and avoids the disaster.
Yes, college students need a convenient and viable form of backup, just as all computer users do, but not from this company. This is almost a scam (but not quite). (Notice how they target "parents of incoming students", who might be less tech-savvy than college students?)
Vinay Dinesh and I are both Information Technology Advisor Managers (ITA Managers, for short) at the University of Pennsylvania, and we are writing, as individuals, to help you find the right backup solution, whether it's as simple as copying files to an external hard drive, or syncing files to the cloud. But Campus Backup Service isn't right. (See our upcoming collaborative post to see how you can back up your files the right way.)
Wait, this service isn't from Penn (or whatever university I go to)?
Let's get a couple of facts straight:
This service is not operated by, endorsed by, or affiliated with, any part of the many departments that handle IT at Penn (see Penn Computing), nor any IT department at any university whose students are receiving this advertisement.
No IT department is suggesting that you use this service.
This is a company that received your personal information for marketing purposes from someone or some group at your university. At Penn, a student-run business organization called Penn Student Agenciesis responsible…
I want to call out On Campus Marketing for shady tactics, just like I have done in the past for another company that sent mail marketing posing as some authoritative organization.
Even if it's not from my university, it's a good service, right?
Nope.
First of all, the unprofessional design of its Web site gave me serious concerns about both the company's legitimacy and reliability. But that's highly subjective — and there are better reasons…
The price. $150 for 4 school years might sound like a small investment from the beginning — but I'm always wary of long-term subscriptions. In addition, I'm aware of so many other reputable backup providers that have more economical plans, like Mozy and Dropbox — we'll talk about those soon. Their fees aren't ridiculously high in comparison to other services, but given the level of functionality (and the reasons below), it's a ripoff.
The technology. Apparently, an Internet backup service mails you a CD and serial number to install its software. This isn't looking good.
The implementation. Campus Backup Service claims, as of August 5, 2012, that "Campus Backup software will automatically backup your documents the same time every day" — and advises users to "leave your computer on and connected to the Internet". There's no automatic sync aside from the scheduled backup, although you can manually click on something to transmit a copy when you want to.
That's moronic. As far as students on laptops go, changes to documents are made much more frequently than once a day — and you might very well like to keep more than a daily copy of your latest essay (especially if you've procrastinated until the last two days!). But without automatic syncing of changes, users will forget to click "backup" on their machines — and that's one of the ways disaster could strike. Moreover, if Campus Backup is really scheduling backups at a given time each day, requiring laptops to be on at that time… well, let's just say that isn't a realistic precondition.
[acm-tag id="468×60″]
So how can I back up my files?
In general, there are two accepted ways of keeping backups.
Local storage (on an external hard drive, burning DVDs)
Cloud storage (syncing your files and changes to a Web service)
A comparison, and recommendations, are coming shortly — jointly authored by Vinay Dinesh and me. Check it out soon!