In the past, I've written about scams in computer services, and poor use of technology on a campus media site. Now bringing you… my views on a student government project to deliver a mobile app, PennMobile, to the University of Pennsylvania.
Since I was involved with planning when the 2013-2014 Vice-President of the UA was drafting the Penn Mobile App Resolution (which passed on December 8, 2013), I have been tracking the project and offering feedback since its inception. On multiple occasions, I have been disappointed with how the project was realized.
In this 3-part post, I'm going to cover:
First, the impetus for my present blog post:
1. Where's the app?
Today, Wednesday, February 4, 2015, was supposed to be the launch date for the app. Earlier in the week, the Undergraduate Assembly voted 19-0-15 (15 abstentions???) to approve additional funding for marketing the launch. The UA coordinated a campaign, involving a Daily Pennsylvanian article, to promote the launch.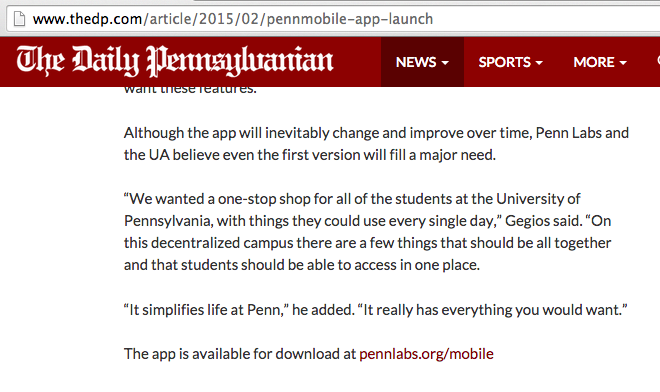 According to the article, the app was "available for download". It also stated that the launch had previously been delayed:
Leading up to the Wednesday launch of the app, PennLabs encountered its fair share of obstacles.

Other than technical difficulties with syncing up servers for app functions, the release day was pushed back several times. Gegios said Apple app regulations held the app back, while Maheshwari said recent updates to the app took additional time to be approved by the Apple App Store.
Yet, on release day, the iOS app was still unavailable on the App Store. This kind of delay can clearly be anticipated, since they had run into it before—it's also no secret (as of February 4, 2015, a site operated by Shiny Development reports an average 8-day delay).
When someone pointed this out in the DP comments, a coordinated effort began to cover up the issue.
"Let's pretend we didn't mean to launch until 10 pm!"
The launch site added a JavaScript countdown to 10 pm Eastern, which had not been there previously.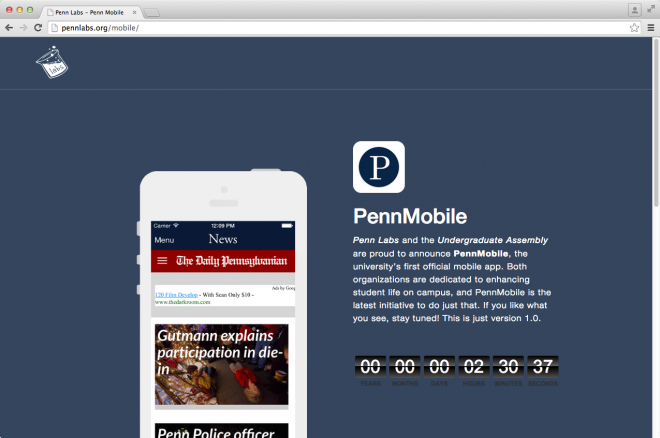 The source code suggests that the counter was added to hide what had been there temporarily, a link to a coming-soon page explaining that the iOS app was pending Apple approval.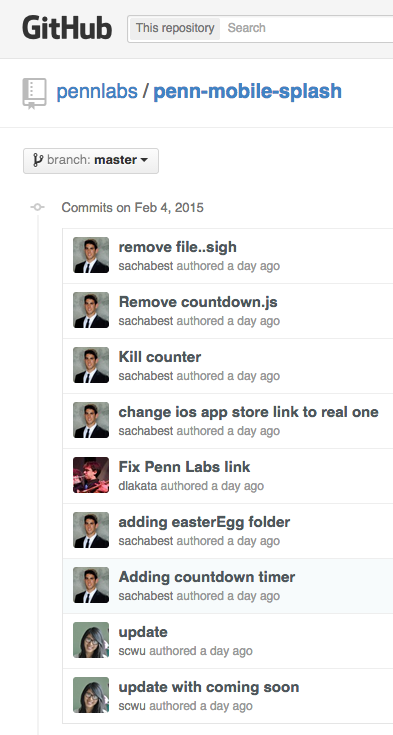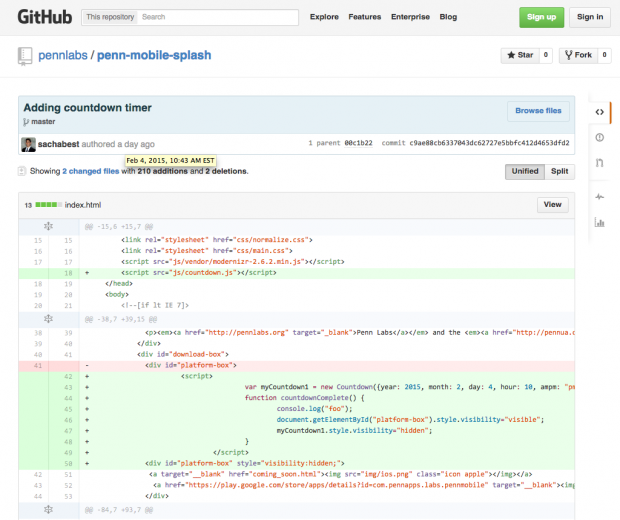 Someone in the DP comments was, predictably, misled to believe that there was no intended launch until the evening.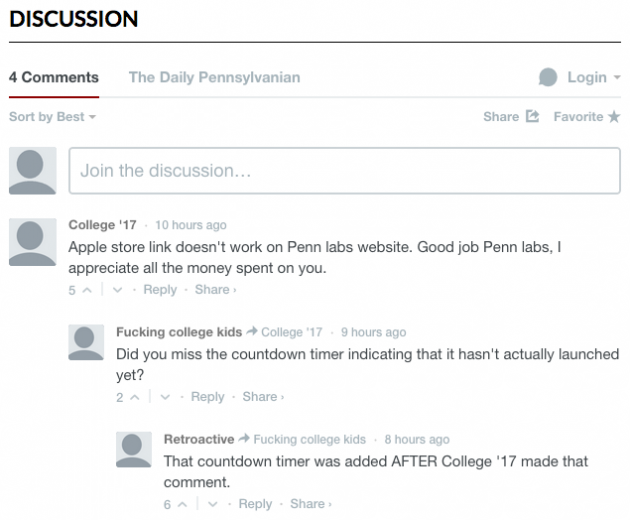 The UA edited its Facebook page to change "download now" to "download soon". This is the clearest indication that they actually had meant to launch early in the day but had to change their message, 4 hours later, when things didn't go as planned.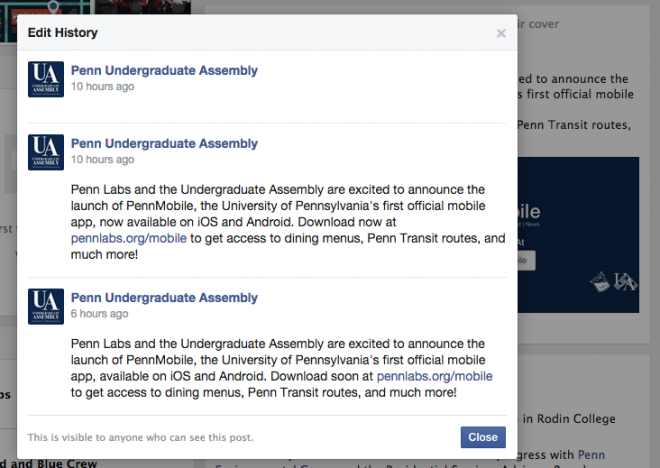 At 8:44:25 pm Eastern (according to the last-modified timestamp of "Thu, 05 Feb 2015 01:44:25 GMT" sent by the server), the launch site was updated with download links to iOS and Android versions of the app.
Questionably, the app isn't listed under an organizational account (e.g. Penn Labs) on the App Store, but rather an individual's: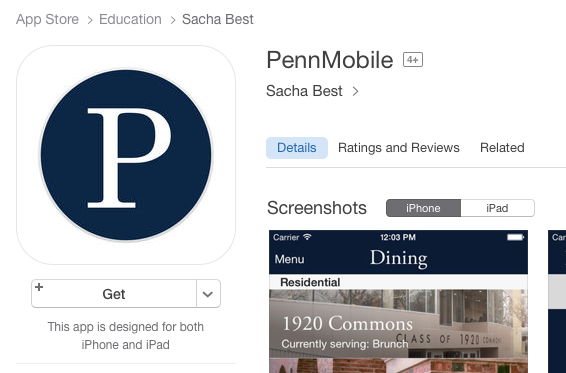 Even after launch, can't find it in the app stores…
An ordinary person who isn't browsing the PennLabs mobile site might go on the App Store or Google Play Store to search for "Penn mobile" or "Penn mobile app". There's a lot of things on there, but not the actual app: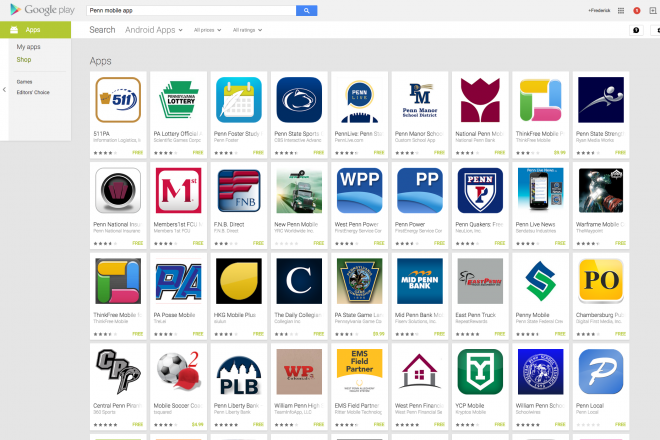 Apparently, the only way to actually find the right app is to type in "PennMobile". Now who would do that?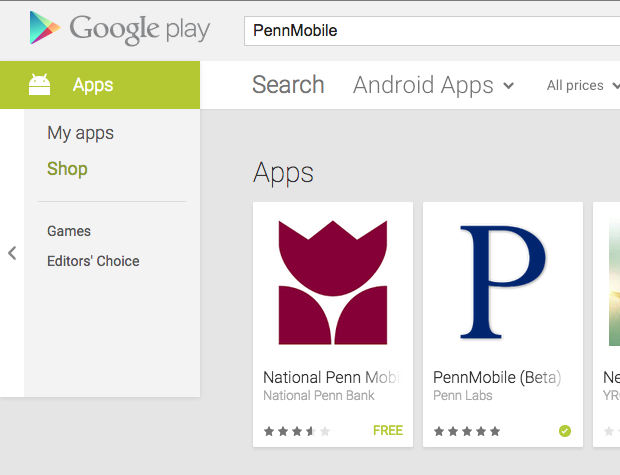 This is some bad optimization… which could be fixed with adding text to the description for SEO. Weirdly enough, as much as some people in the UA are adamant that users should just be smart enough to search "PennMobile", communications over the last few months about the beta, as well as the current title of the app's website, all refer to it as "Penn Mobile".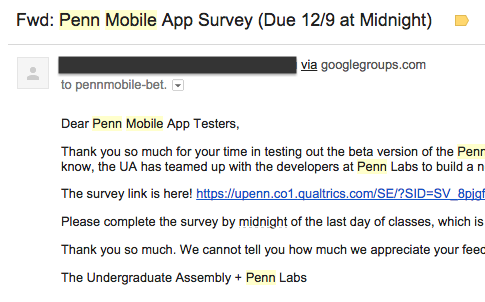 … but the problem in Android world is better than the situation over on the App Store, where the app just can't be found at all: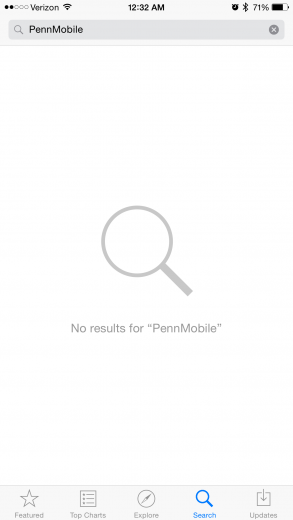 2. The Android app
I've been involved as an early pre-release tester of the Android app since being invited in November 2014.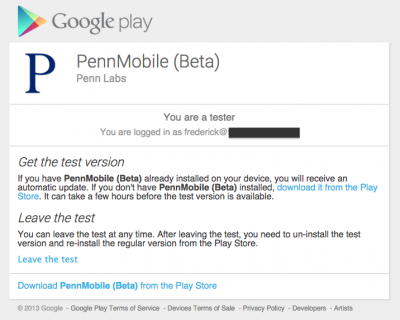 Over the months, I've reported multiple issues, some of which were fixed, others of which were dismissed, and some that are still outstanding.
Not PennLabs' fault: no students in directory
Due to the way Penn implemented one of its OpenData APIs—the Directory API—without any means for authenticated access as a specific user, the Directory search only returns the "public" view. I complained to Penn Labs that, in an early beta, search results for students were useless—they showed the name and department, but no email or contact info for most students unless they explicitly opted to share publicly.
It appears that the solution was to filter out students from directory listings.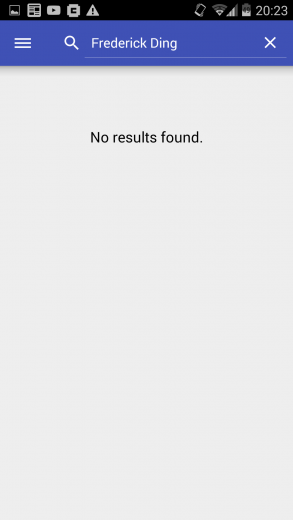 This is one problem for which I don't blame the students who managed and implemented the app. The underlying API doesn't expose the data needed.
By contrast, however, there is a mobile website for the Penn Directory, which does permit Pennkey authentication, and shows far more: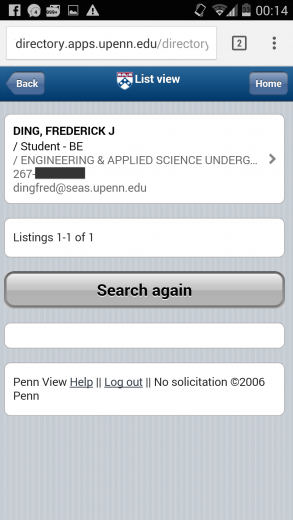 Continuing flaws in back button behaviour
On Android, aside from the occasional crash (which has also been reported by at least two iOS users), there are glaring bugs that scream alpha.
From the previous screen of directory search, or indeed from many other screens, if you press the native Android back button (hardware or soft key), the app re-draws the home view's icons on top. I've reported this; other beta testers have reported this, both during the beta trial and in the days leading up to the public release; it remains unfixed.
Inefficient use of screen "real estate" in News view
There's a header that says "News", which I already know since the rest of the page shows me news.
There's a horizontal nav bar under it that doesn't hide itself.
Then! There's still the fixed top header of the Daily Pennsylvanian's site, which stays at the top even when scrolling.
Then! There's a banner ad.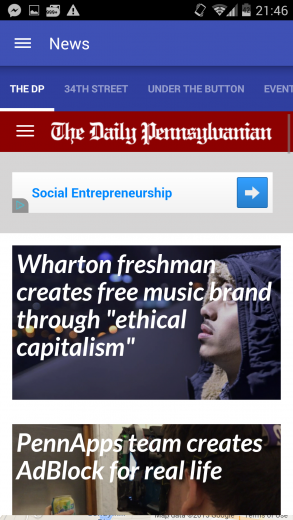 Why would anyone use this instead of opening up Chrome and typing in "thedp.com"?
Back button, part two
Say you're browsing a news article on the DP's site, and you want to go back to the home page of the DP to read more information. On Android, the natural inclination is to use the hardware back button to return to the previous view.
When you push that while browsing news in the embedded browser, instead of sending you to the previous page, the PennMobile app returns to its home screen! This is unacceptable!
I feel like whoever developed this feature was only thinking about how it would work in theory, and hasn't actually tested using it for its intended purpose of reading actual news.
Not expecting perfection at initial launch
We know that apps and sites face incredible challenges at initial launch. The problems here, though, don't have to do with incredible demand overloading servers, or unpredictable computer failures. They have to do with
poor planning (App Store approval takes time, duh)
poor marketing (who even knew it was launching today?)
poor execution, particularly in the Android app (as one CIS professor recently put in his slides, you don't get an A for effort)
poor responsiveness to beta testing feedback
transparent attempts at covering up the launch delays instead of accepting responsibility for problems
low benefit-to-cost ratio (considering Penn Labs gets a $7500 grant from the Undergraduate Assembly's budget each year, matched by the Provost's office)
These aren't just "risks" assumed by startups or new product launches. These issues were foreseeable and could have been mitigated.
3. The original vision
When I was consulted in the original preparations leading up to the Penn Mobile App Resolution, which was spearheaded by last year's UA Vice-President, Gabe Delaney, I suggested that webviews could be used to quickly enable cross-platform compatibility. In fact, the Princeton mobile app that inspired some of the proposal is a repackaging of m.princeton.edu, which offers far more functionality in a standards-compliant Web app. There are good reasons to build native apps, including performance and platform-specific aesthetics, but let's look at some of the features that I would have liked to see in the Penn mobile app.
Possibly because the Princeton administration was more involved in the creation of the Princeton app, their directory offers more functionality: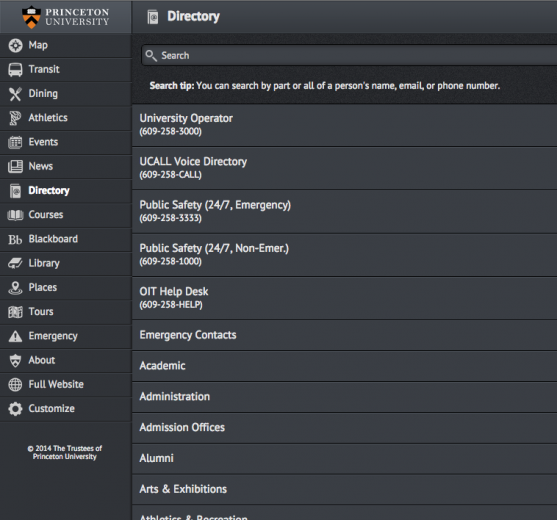 By utilizing news sources' APIs and machine-readable formats (presumably, RSS/Atom), the Princeton mobile app also aggregates news in a friendly format, rather than merely embedding a website in a frame: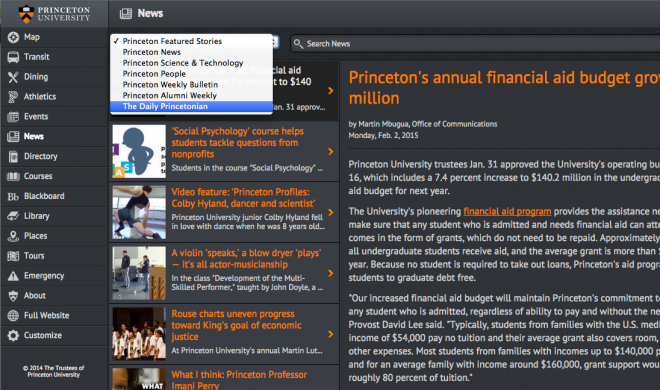 In fact, even our University's official mobile site, which works cross-platform, does a better job at both these tasks than the new mobile app. There's also a campus map that recognizes current location using standard mobile browser features for geolocation! On top of that, we have a fully functional mobile version of Penn InTouch to register for classes, view our grades, and view financial aid:
Of course, for those who believe in "startup culture" and "hackathon hackers", this isn't pretty enough.
When considering the resolution back in 2013 (see 41M – UA GBM #13 Meeting Packet (12.8.13)), I envisioned a modernized version of these features. I was even so proud as to feature this as a student government initiative back when I managed the Penn Student Government website: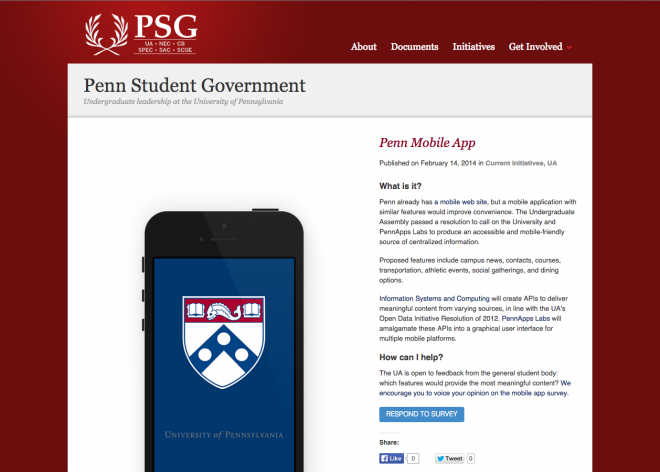 That vision hasn't been delivered.