I love fonts… well, I love some fonts to a great extend and vehemently despise others. I don't consider myself a typographer — and I don't make fonts — yet I probably have a keener eye for type than the average citizen. And my documents typically reflect the period of my life in which they were produced, because, well, I have favourite fonts… and these preferences change about every year.
The thing with fonts is that they contribute greatly to the overall feel of any production, whether it's a logo or corporate identity, a book, a newspaper/magazine, an essay, or an advertisement. Choosing the right typeface for a particular purpose is like an art, and typography itself is an art. Unfortunately, most average Joes lack awareness and skill in this area.
To test your ability, see if you recognize the fonts below; click on the image to see the answers. (Windows users should have no problem with these.)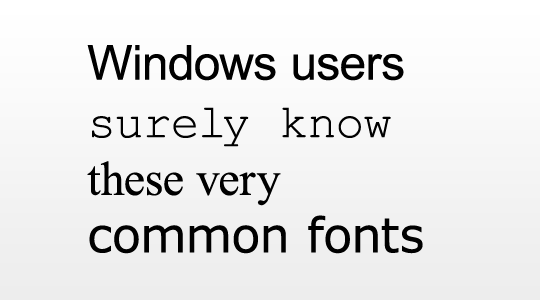 Chances are, you are able to name them; if you can't do that, the fonts above should still look familiar. After all, they are default fonts for a lot of things on Windows: pre-2007 Office applications used Arial and Times New Roman, Courier New was the default monospace font (primarily for coders), and Verdana was, or is, common on the Web. (I personally have issues with all of these fonts.)
If you know and use a few of the newer defaults fonts, you might recognize these; they are new since Office 2007 or Vista: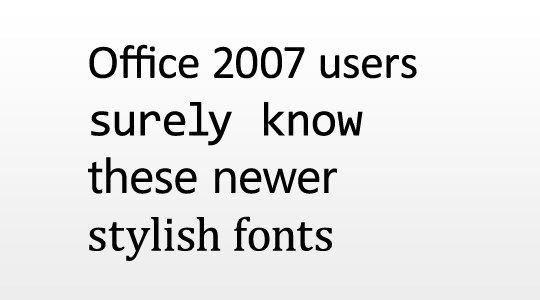 I'll admit that I like these a lot more than the old generation, but they're still not professional typefaces for professional documents like books and magazines.
Now we get to some more professional typefaces. See if you know these; they are some of the more recognizable ones.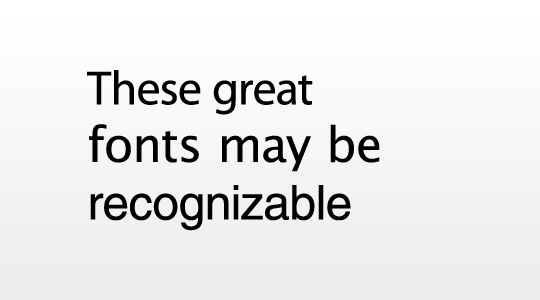 Now we're talking. These are hugely popular professional typefaces, the first popular in corporate identity and logos (and at Apple), the second used by Apple in products like Front Row, and the third a commercial and artistic success from Switzerland, 1957.
But here an average user might stumble. When we get to more obscure yet professional typefaces, we encounter fonts that the average user might only have seen in a book, or in a magazine. These aren't necessarily fonts that the average person uses on a daily basis, or for that matter, the average user probably doesn't use them at all.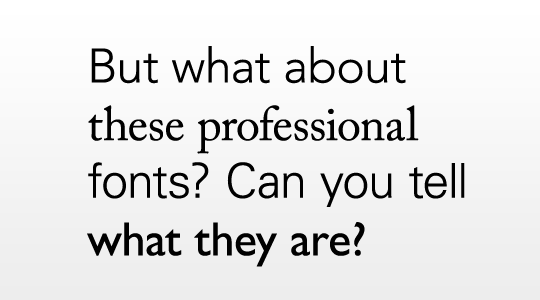 You might pause to ask me, why would any sane person produce essays and letters and memos in these fonts? Aside from a consideration that I might be a bit too obsessive when it comes to fonts, I do believe that choosing the right font contributes to a desired appearance. For example, the second font of the Caslon family is used extensively in book publishing, and is highly readable; great works of literature look great in that font. The third font, Univers, is used on some Apple keyboards, and the individual letters contribute to the stylistic appearance of those keys. And I have seen at least two magazines use the first font in their publications for things like headings.
I'm sorry, but a memo using Calibri or Times New Roman give the appearance of a person who is untrained with their productivity software. Similarly, I would immediately despise reading any book or magazine set in Times New Roman — it isn't as visually pleasing as some of my favourite fonts (below).
Now that you know you should choose professional fonts for professional documents, or playful fonts for humorous things, here are my favourite fonts.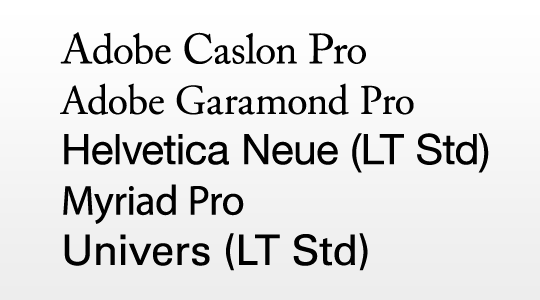 Have any comments? Please share your thoughts. Or, go view a humorous video about the personality of fonts.